I've created quite a few cards lately. Here is what most of them look like. I have finally gotten on the boat and started working with
"Inchies"
. It really was fun. And kind of addicting! I just had a ton of them to put on cards. And it left the cards to where I could put whatever sayings I wanted on there as needed. Here's the photo: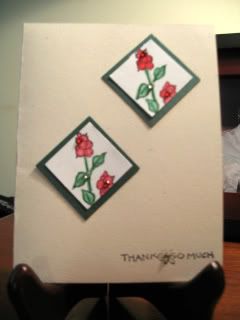 I don't remember what all supplies I used. The photo isn't really good...still haven't mastered the taking photos of my projects thing. But, if you can tell, I did get a little stand to put the card on so my fingertips aren't in every photo! I did add little rhinestones to all of the inchies...almost used all of my rhinestones as I had a ton of inchies!! But, they're all on cards now, so I have 20 or more cards that I have for whatever occasion.
Here's a picture of our happy dog!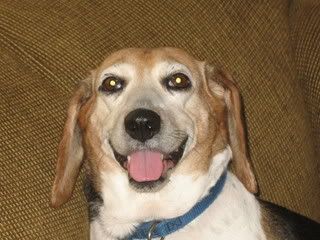 She's just panting from her long walk, but it looks like she's smiling! I have this on my desktop at work. She's so adorable.
Well, nothing new is going on with me. Oh, except I'm working out with a trainer now at the gym. She's really tough, but I feel better after working out. I still hate exercising, but I know I need to get in shape. I've put a few pounds back on, so I could definitely stand to lose a few. Of course, if I'd start watching my diet better, control the carbs, maybe I'd lose some pounds! Uggh!
My chemistry class is going OK. I've got a lot of assignments to do, so I'll probably be working on school work all weekend. All I really wanna do is sit in the recliner and veg out. I'm sure I'll be doing a whole lot of that! And playing Guitar Hero III on the Wii. We haven't played in a while, so I'm about to get on it. Maybe sometime this weekend I'll do some crafting. If I do, I'll post something. Thanks for reading my ramblings! ~Kim