Hi All. Nope, I promise not to post each and every day of vacation, as that might seem as if I were trying to rub it in your face that I'm on vacation and you're well, OK, probably not. Anyway, this first picture is the view if you're standing on the boat and looking to the right. I thought it was just a beautiful sight and had to shoot it!
This is the second fish I ever caught (yesterday, while WITH the inlaws on the Gulf of Mexico while vacationing in the Keys vs. the first one that was caught while visiting the inlaws when they lived on Merritt Island in Florida in 2003.)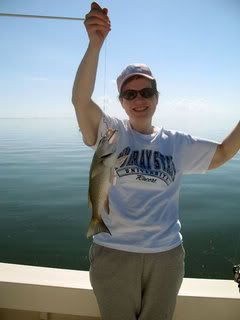 This was probably the biggest fish of the day!! Woot Woot!! Actually, Jason caught one even bigger than mine, but I didn't get a picture of it. So that means I caught the biggest since it's the only record we have. (And as I tell the story over the years, the fish will get larger and larger...ya know, cause that's how fish tales go!!)
The weather is pretty nice here. A little cooler that I had hoped, but nothing to complain about. The boys are out on the boat fishing. I decided I didn't want to join them as my touckas is a little sore from all the bumping around we did yesterday, and the water is even choppier today. Plus, tooth is still hurting from root canal on Wednesday. What a thing to have to get done right before vacation!! MIL is out shopping at some "Florida-y" clothing stores ("Lazy Lizard" and some other store that I can't think of the name now) and to Publix...I almost went just to get to go to Publix...love me some Publix.
OK, I think I'm gonna go nap. Yep, that's what my people do when on vacation. Heck, that's what I do on any day that I don't have to work!!!