Well, it seems I have neglected my blog...just a wee bit! I've been so crafty lately, just nothing I've taken the time to share with my one reader out there in bloggy land. I've actually started some new crafts. (I know, who ever knew ME, starting new crafts! geez!) I know I shared my rag quilt a few months ago, but now I've kind of dived in, head first into...wait for it...QUILTING! And not just rag quilting either! Last week I took a quilting class. The type of quilt was called a rail fence quilt. It is going to be beautiful...if I ever finish it! The fabric I chose was inspired by this card. The card was a CASE from a card we made at stamp club. The paper is Stampin' Up! Designer Cardstock called Parisian Breeze. My demo was so wonderful about letting me borrow her Top Note Die AND her 1 1/4" square punch at a Friday night scrap. I punched ALL night! I now have these pretty little designs coming out my nose!! I even had enough to use for my swap! I did everything you see below EXCEPT the added welcome baby sentiment and the scalloped rectangle under it. I wanted to leave it blank so it could be used for different occasions.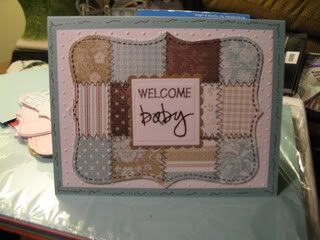 Well, I gotta jet. I'm quilting today with the Quilt Lover's of Murray quilt guild I joined.
I did say I went face first into this quilting thing. Why wouldn't I join the quilt guild???
Hopefully I'll publish again soon!! ~Kim