Yep, you read right! I finally finished one. I've got hundreds of cards in the making, but none complete. Last night I had some friends over to scrapbook. I did some stamping, but no scrapbooking. Finally, towards the end of the night, I got my scrapbook out and started sorting some pictures, since the last time I scraped, I threw everything back in my bag and not in an orderly way! So, hopefully today, I'm gonna do either some scrapbooking or some card making. I'm going at 11 to get a massage, so I might not want to do anything but sleep when I get home, who knows!
So, here is the card. I got the idea after seeing a challenge/blog candy that
Allison
had posted. (If you've never been to her blog, well, let me tell you, you are missing out!!! It is the only blog that I visit RELIGIOUSLY, as she always has links to everyone's challenges, new to her bloggers, blog candy and loads of tutorials, which I LOVE! Anyway,
go visit her!
) Well, I tried to get it done in time, but had some difficulties. I used SU! White Craft ink on the acetate and the black kromokote paper to begin with, and it would not dry. After 3 days and using a heat gun, it was not dry. So, I decided to throw it away and forget about entering my first challenge EVAH! Well, I just couldn't get the idea out of my head. So, last Friday when I was in Nashville for my Dr. appt., I decided to go to Hobby Lobby and JoAnn's (ya know, just to look!) Actually, I knew what I was looking for. Stazon White and Stazon Brown. So, last night, I decided to try the card again. I was amazed how fast the Stazon white dried! Blew me away! So, here is the card. My photo skills are lacking. (I can take great pictures of anything else, but when I try to take pictures of my cards, they always suck!)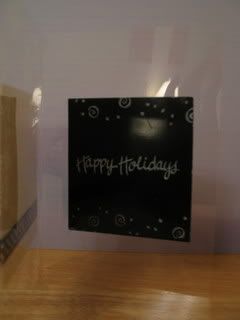 I like the card so much, I might just make a few more and use them for my own Christmas cards. I'm not sure though. I like making one card and then doing them in masses so I know what I sent each year. I don't want someone getting the same card two years in a row! Plus, I'm not creative enough to come up with too many new ideas! Thanks for reading! ~Kim