Below is a card that I made to send with care packages for the local National Guard who has been deployed. They were in need of supplies so my Woodmen of the World Lodge decided to help out. I purchased this stamp set with care packages in mind.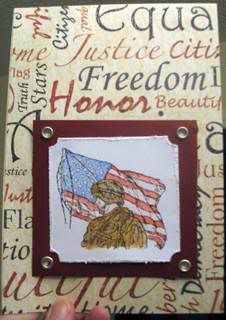 Here are the details...I normally don't put details about my cards because I usually don't know them, but I kept track of these. The paper is from The Paper Studio and is called "Patriotic Words," the stamp set is Stampin' Up!'s The Free and the Brave, I used black Stazon Ink and Kimberly Watercolor Pencils to color the image. The eyelets are from my Crop-a-dile set that I bought to put my Crop in. The white paper is 80# Cougar Cover. On the envelope, I stamped the stars up both sides in Night of Navy ink. (I didn't get a pic of it cause it was pretty plain!)
Today has been interesting. I've been babysitting for a friend. He's a two month old precious little boy! It's been almost 12 hours now and I haven't lost my mind! He's been fussy at times, but it's been OK. I've been able to handle it and haven't lost my mind! AND, I've been feeling bad because I had a wisdom tooth pulled on Thursday evening! His daddy called me early this morning and asked if he could bring him over earlier than planned because mommy was sick as was going to the ER. So he was dropped off around 8:30 this morning. Turns out, mommy has gallstones and was admitted tonight. So, once her parents come in from Missouri, they will come pick him up! I've even washed all of his bottle stuff and gotten everything ready for the grandparents. Once he wakes up, I'm changing his onesie and then he'll be good to go. Here's a photo of Peyton and I cuddling!
Well, I'm stopping my rambling. I've got more stuff to say, but I'm not in the mood to type. I'm pretty tired after watching the boy. I think I'm gonna be going to bed pretty early!! Thanks for reading! ~Kim