Hello anyone who's reading! We had a wonderful weekend! On Friday, my hubby and I went to some friends house for a pool party. They have it every year and it was last year when I saw them last. It was great catching up with everyone! I have some pictures of the kids showing off.
Then, on Saturday, we had a definite experience. I ended up bringing Samantha home with me and boy did we have fun. Our friends, Dinker & Dozer, asked us to help them with a job. They own a catering business called
on the mark catering and event planner
and they were hired by the radio station to cater for the Freedom Fest concert. We were catering in the artist hospitality room. That meant we would be serving Jason Meadows, Tracy Lawrence, and the Charlie Daniels Band. So, Sami & I got there right before lunch. So we helped serve band members (we're assuming as nobody really introduced themselves our anything and I didn't ask.) At about 1:30, everything slowed down. My friends left to go get the food for supper. So it was just me, Sami & Mikey. Then Mikey left so it was just me and Sam. Then this gorgeous lady and pretty cute guy walked in. The guy said he needed to get "this lady something to eat." So, by that point, lunch was pretty scares. So, she ends up getting a little salad, as the guy is sitting there humming, walking around. So, I compliment her hair, as it is absolutely stunning. Then I ask if she's with one of the bands and she said "Yeah, I'm with Jason." and points to the guy who was with her but walking out the door. I asked her if that was Jason Meadows and she said yep. Dang it! A famous person and I didn't know it. She just laughed! Then his bus driver came in and we talked a little bit, but Sami really took a liking to him. She was sitting with him talking the whole time he was eating. Then, he came back for supper, and she kept going and getting his dirty dishes for him and talking and being cute. He left, and then came back with a ball of something. He told me to "give this to that youngin". It ended up being a Jason Meadow T-shirt. I thought it was so nice. I told him that she said she wanted to ask him if she could see the inside of the bus, but chickened out. He told me to tell her to come find him and he'd let her see it. Well, then I said that I was her guardian and I'd have to come too and he said that was fine!! He said look him up once Jason was on stage.
So, after that, a lot of people started coming in to eat. We were feeding people and then all of the sudden there was this cute little puppy running around. So Sami and I started playing with it.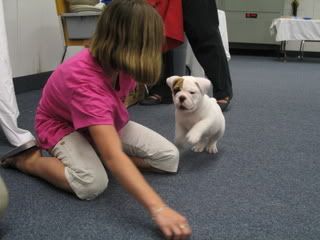 Isn't he a doll?? We were playing with him and I asked who owned him and this guy sitting at the table closest to us said it was his. He told us his name was Tank and he was an english bulldog and he was 9 weeks old. So we just kept talking to his owner, and then my friend's son came and whispered in my ear, "You're talking to Tracy Lawrence." I told him he was a liar. I mean, the last time I saw Tracy Lawrence, he had long blond hair and this guy wasn't him. He was wearing a ball cap, and some glasses and just didn't look like him. Until I kept talking to him and then all of the sudden it hit me and I could see it. I'd been talking to him like crazy and didn't even know who he was! So, here's a photo of Tank, the dog of Tracy Lawrence.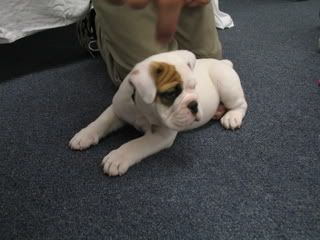 After that, we went out and hung out at the concert until it started. Then, we saw Jason's bus driver sitting over by the tour buses, so we went over to see him. He had us pull up some folding chairs and have a seat. We talked with him while the Froggyland Idol was singing. Then we saw Jason's band come out of the bus and start walking to the stage. Then, out pops Jason. It was pretty cool. So we sat there for a little bit and then walked back over to the front, and then walked back over to where he was sitting. He had gone up to the stage to do some stuff, but then came back. He told us his name, and where he was from. He's married and even has a grandbaby! He's driven tour buses for quite some time now. He's driven for Neal McCoy and even Gwen Steffani. I thought that was pretty cool. Anyway, he never mentioned anything about getting to tour the bus, so I didn't mention it again. He was nice enough to let me take a picture of him and Sami. Here it is: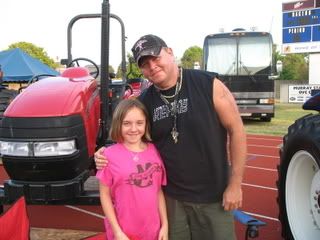 He was super nice and kept us entertained. After we told him bye, we went back over to the concert. Jason was still on stage. I got a couple of photos of him that were pretty good. Here's one of them:
We didn't stay for the rest of the concert. Unfortunately, I started getting a migrane and was tired from working all day. Plus, Sami didn't really care about staying. She doesn't listen to country music and didn't know who anyone was anyway!
So, we went home and waited for the fireworks. I got a lot of cool pictures. The first one is posted at the beginning of this post. Here are some others: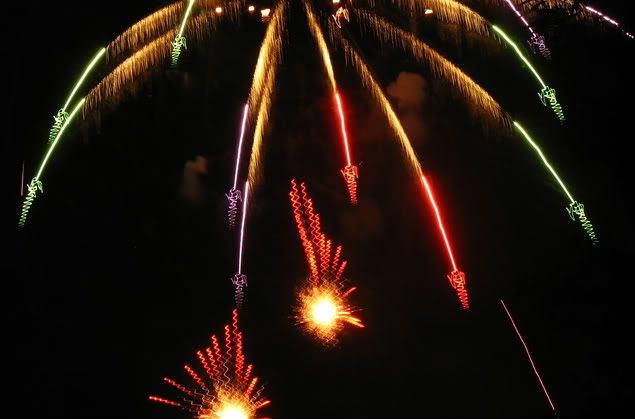 How cool is that photo? Love how you can see the little squiggles. Here's another one:
It reminds me of a sun in the middle with starburst rays all around!
Well, thanks for reading if you've stayed with me this long! Hope everyone had a fabulous holiday weeknd! Toodles! ~Kim