It's been a while since I've posted. I've wanted to post, but I've had nothing to share. But now I do. I've discovered altering composition books. I've really become obsessed with it. I've got a ton of them, ready to decorate. I'm even teaching a class at the local scrapbook store. Here's my favorite so far:
And now my second favorite: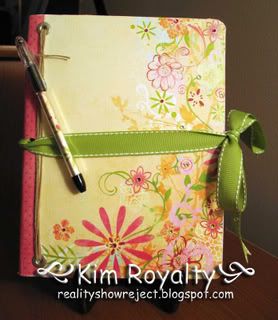 I made this one for my Shawna for her birthday. Sorry it was a little late Shawna!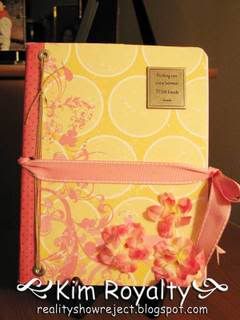 And here's the card I made with the left over scrap pieces! Yay for me!
It really isn't one of my favorite cards. I used a rub on tape for the faux stitching. I didn't like it much. Looks too fake.
Hope you enjoy looking at what I've made. Maybe I'll keep making stuff and posting. I've been busy trying to finish up my chemistry class before next Friday. I have a bit left to go, but I'm sure I'll get it done. I'm going to Nashville tomorrow to visit a friend who's just had WLS. I've talked to her sister and she's doing great! While I'm in Nashville, I'm getting to see my old massage therapist and I'm getting an hour and a half massage!! I'm so excited! It's been a while since I've had a good massage!! Toodles! ~Kim