Well, I really lucked into a cool thing a couple of weeks ago. Some friends and I have been talking (for years now, even when we lived in Cincinnati) about starting a craft club. Basically, a group of people to get together and do crafts. In the beginning, we were going to have different people host each get together and teach some kind of craft. Well, the craft club kind of became a reality last week. I sent out emails to everyone I knew who I thought might be wanting to get together to do some crafting. It didn't matter what type of craft either. Scrapbooking, stamping, whatever you wanted to do. Just a time to get away from home and kids and focus on crafting. I sent an email to my friend Candee, thinking, "Well, I don't know if she's crafty, but I'll send it anyway. She'd like to get together and socialize anyway." Well, she emailed me back and told me about a Stampin' Up! stamp club she was in. She also asked me if I wanted to come to one of her classes! It was so much fun! I made the most beautiful card I have ever made! I never would have learned how to make that beautiful card if I had not emailed Candee. Here is this card: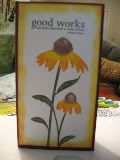 and the inside: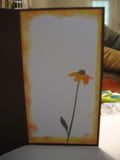 Here is the other card we made. It is beautiful too.
I think I could have come up with that idea on my own, but the flower card? No way. I didn't know of this technique (huffing) until I met up with these ladies.
Tonya
is the demo, and she has a ton of great ideas and products!
Well, back to Craft Club. Everyone emailed and told me they would be interested and what days were good for them. So last Friday night was the first ever Kim's Craft Club. OK, so it won't really be named Kim's Craft Club. I just couldn't think of a name for it, and since I initiated the email to get this thing going, well, right now that's what it is. Once we get a little more formal and designate certain dates that we're going to do this, and get more people to come, then I'll come up with another name. We met at
Aurora Baptist Church
,
Kara's
home church. We've crafted there before and it's a great place to meet. It has a kitchen, bathrooms and lots of tables for crafting! It was a great night for all who attended. I ended up getting four or five pages done in my Lucy scrapbook, but that was it. I was too busy socializing and seeing what everyone else was doing! We are going to have to do it again sometime soon. In the meantime, I'm waiting for the next Stamp Club class, which is on Sept. 11. I'm too excited. Tonya came to the Craft Club the other night and I told her how I didn't use heat emboss powder too much, basically because I was no good at it. So she said the stamp club will then have lots of projects that involve embossing so I can practice! I think that will be cool. Plus, more ideas!
Just a quick note on the above photos: I was in a hurry when I took them, so they are not really that great. Kara and Jenni got me this really cool photo box type thing to set up an item and take really good pictures, but I was in a hurry and trying to get back to lunch on time. So for now, that will have to do. In the future, I'll use my little "photo studio" for all of my crafts and maybe they'll look better.
Well, we are leaving to go to Cincinnati this weekend to see the inlaws. I'm excited and ready to get out of town. J had to work late, so we're getting a later start than we wanted to. Oh well, they were gonna go to bed anyway and just leave the light on for us. So I guess it doesn't matter what time we get there. We just need to be quiet when we come in! Well, everyone have a safe and happy Labor Day! Kim