I finally finished making all of the cards that I put in that neat little card holder for my mom's best friend who was nice enough to give me some clothes on Independence Day. Yep, almost two months later, but still done, none the less! Now I just need to deliver it!
Here is one of the cards in the bunch: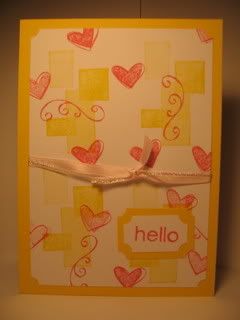 I put a total of 12 cards and envelopes in there. Some are really cute cards. Others I'm not as fond of, but who knows, she may love them! '
DH and I are heading to Cincinnati tomorrow for Labor Day weekend to visit his parents. I'm too excited. I miss living there and really enjoy the visit. Plus, I get to go shop at Archiver's and now that I'm into stamping, there is a store I want to visit called "Stamp Your Art Out". I want to see if they have any kind of watercolor crayons or pencils. I have some cheapo pencils from Wal-Mart and a set of SU! Bold Bright Watercolor crayons. Unfortunately, I really need the Earth Elements to color my Thanksgiving cards. And I hate to spend $10 just for shipping something so small. :( So I'm just gonna take my Christmas cards with me to keep me occupied. Yep, I have to be entertained at all times!
Here's a couple of cards I made (maybe I'm a bit scatterbrained too!!):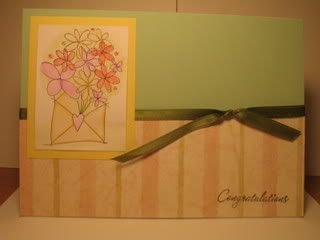 This one I made for my aunt for her birthday. We are going to Florida for vacation with her and her partner next month, so I knew she'd enjoy a card with a beach scene on it!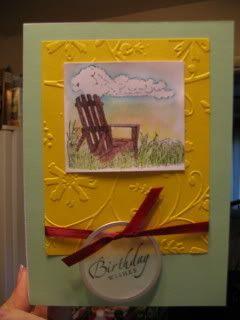 Sorry the color on the photos aren't that great. I tried to set up my own photo box (wasn't exactly like the instructions said and I think that was the problem) but it didn't work too well. Maybe some time I'll follow the directions and the color will come out better!
Hope everyone haves a safe and Happy Labor Day!