A few friends and I threw a baby shower for a couple of friends of ours. I made some really cute invitations and actually designed it myself!!! Surprise surprise! That rarely ever happens! I took ideas that I've seen on other people's blogs and came up with it all on my own! Here it is: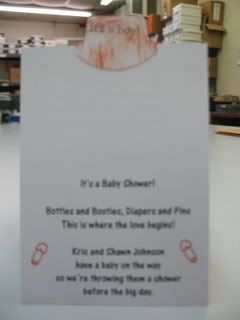 The Football baby stamp is from The Angel Company. The "It's a boy!" stamp is from Stampin' Up. The baby pin is also from Stampin' Up.
Then, for the shower, I made some nugget boxes! They were too cute! I even had someone ask where they could get the instructions to make it. I told them to go to www.splitcoaststampers.com and look under "Anything but a Card" and look for nugget boxes. She said she wasn't sure if she'd remember that. She was wanting to do something for her daughter's wedding. I told her that if she wanted something like that to let me know and I'd work up a price for doing them for her. She liked that idea!! That's too cool! I would love to make stuff to sell. I've purchased a web domain, but haven't done anything with it. Maybe this will give me the motivation! OK, anyway, here is a photo of the boxes: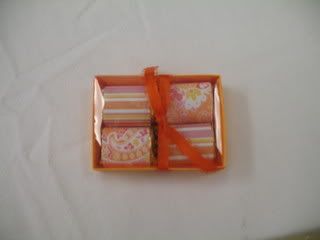 Here's how I displayed them: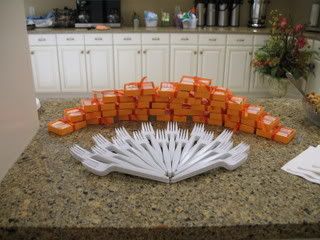 I also put them on the tables that everyone sat at to eat cake. Speaking of cakes, my friend Jenni made some wonderful cakes. Here they are: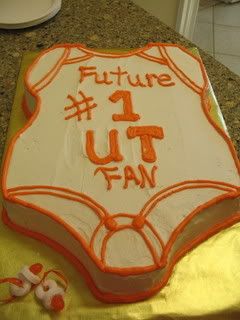 The cakes were yummy! The football was chocolate (I didn't try it). The pennant was orange and the onesie was french vanilla and they were super good! I had to restrain myself!!
The cute little pacifiers on the cake boards were made by Kara with Lifesavers and Jellybeans! Too cute. She also made several table arrangements and a couple of great flower arrangements. Here's a photo of one: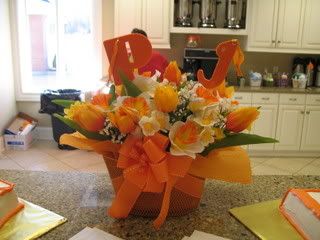 The punch was made by Colleen (with the help of her hubby) in a cute little bathtub. Here's a photo of that: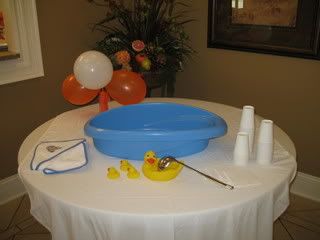 I also made a name plate for the baby. His name will be Peyton. His dad is a hardcore University of Tennessee fan. I had a really hard time finding TN stuff, but finally found some stuff to work with. Here is the finished product:
I don't know if they liked it, but they said they did. They were having a hard time finding TN bedding, so they weren't sure if they were gonna decorate the nursery in orange. Time will tell. Maybe they will still be able to use the name frame and the TN poster I had framed for them. Here's a picture of the poster: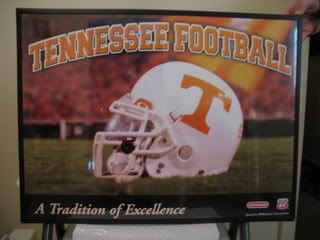 Toodles! ~Kim