OK, so I've finally taken the time to download my photos of the cards I've made so far. I've made a total of five. The last one, I've made four times, because it seems I work better by mass producing. I've made a list of everyone I want to give a set of cards to, therefore, they're all going to get the same cards until I get inspired to do something else! So, without further ado, here they are. Since I'm new at this blogging thing, I haven't kept up with what I've been using. The stamps are all Stampin' Up! The paper is either Creative Memories, something from Walmart, or some random paper from work (working at a printing company does have advantages!) The tools I used were my CM 12" paper trimmer, my personal cutting tool (also CM), my CM tape runner, my CM corner rounder, my Making Memories eyelet setter and I think that's it. (I'm a Creative Memories Consultant, in case you couldn't tell by all the CM stuff I've got! I love it! Now if I could just get back to scrapbooking!) The glitter is something I found at Walmart, along with the flowers on the one card. Who knows where the eyelets came from. I've had them for a long time. The adhesive that was used for the glitter was Zig two way glue from Walmart, the ink pads I used were black Staz-on, Bordering Blue by SU! and Versamark. OK, I'll shut up now...here they are!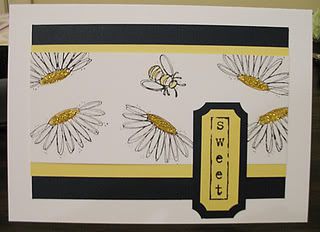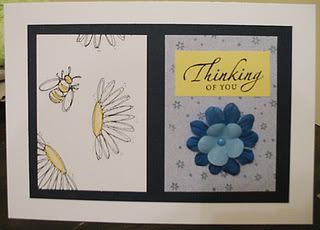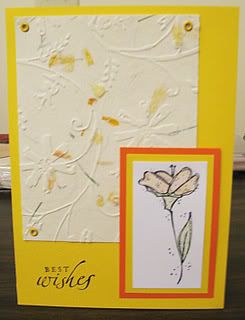 The only original idea was the "Thanks so Much" card. Everything else was ideas I got from Splitcoast Stampers. Unfortunately, I was scribbling on a notepad the ideas, and didn't write who they were from. Sorry if it was you!! Let me know!
Here's one more thing for me to share...my puppy dog Lucy. She's the best little girl a family could have.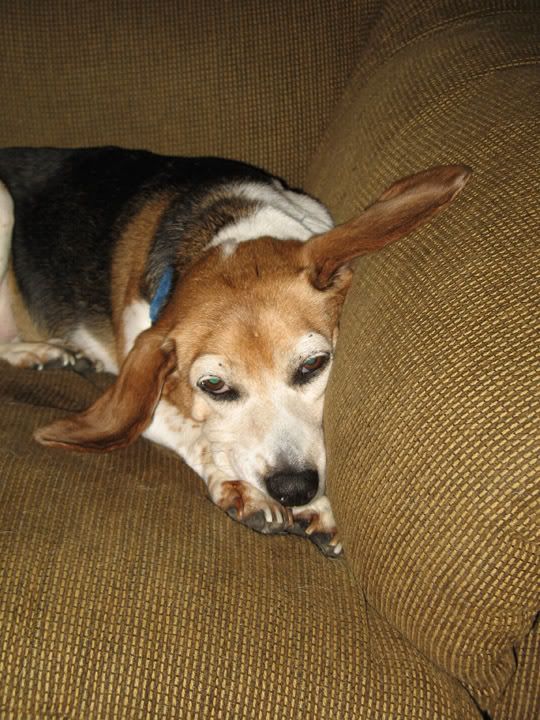 Well, I'm not sure if anyone will read this, but if you did, I hope you like it. Send me links to your blog and I'll list you as blogs I visit. I love looking at ideas and techniques that others use. The only disadvantage is that I look too much instead of creating! Happy crafting!