Well, I've been crafty lately, even though I've been super busy. Unfortunately, I've had to create some sympathy cards. Those suck. My boss's father in law passed away while we were on vacation and I'm just now getting a card made. I didn't have a single stamp having to do with sympathy or losing someone. So at stamp club this month, I ordered a sympathy set. Now, someone else that I know has lost his wife very suddenly, so I've got to make a few more cards for him and their two adult daughters. It's all very sad as she was only 55. So, here is one of the cards: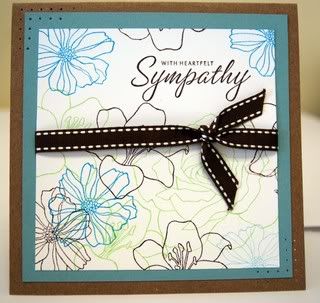 Here's the inside:
I made another one last night with the same stamp set but different layout. I've got two more to go. I think one will be an exact duplicate of the card above since it is going to my boss's wife and the other will go to the friend who lost his wife. The other one I'm going to try to make completely different since they will be going to the same family.
It's so odd when someone dies. I've only been affected by death a couple of times in my life, and it really makes you numb. Just the thought of any of my family dying cripples me. I've lost my Pop, and that alone was terrible. I wasn't as close to him as I wish I had of been, but he was a wonderful man. His death made me see my dad in a different light. I've grown closer to him, and I'm so happy for that. Jason's lost his granny too, and that was awful too.
Sorry this has been such a bummer of a trip...death just gets ya thinking!