February 28th
I finally made something! Today my hubby and I attended a birthday party for our "faux" nephew, Peyton. His birthday is actually February 29th, but since the 28th was a Saturday, the party was then. Of course, since his birthday won't happen for another three years, it is celebrated on the day after February 28th. So, tomorrow is his "birthday." Anyway, since I am known around my circle as the one who makes handmade cards, I made a card for the wee one. And ya know what?? I enjoyed it! I decided this morning after spending HOURS on this card, I wanted to come home and create. Here is the card: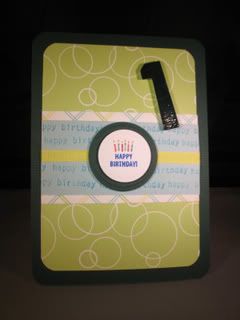 This
is the card I cased. Turned out nothing like it, but I tried!! Details: Classic Laid Duplex Cover Ponderosa Pine/Alpine White (base), bubbles and plaid paper is Martha Stewart paper, 80# Cougar Cover White, generic markers for outside stamp, and I think that's it. Oh...the number 1 was covered in Versa Mark and then heat embossed with Clear Embossing Powder. The number was cut out using my Cricut and the cartridge was Cuttin' Up. Stamp set for outside was So Many Scallops.
SIDETRACKING HERE...try to keep up! As we're on the way home, I remember I need to go to work and print some film before tomorrow morning. After spending WAY longer at the party than intended I decided that this has to be done. Now, we're under a weather advisory tonight as it is snowing/sleeting tonight. So, we decide to come home and walk to the dog, then go by work. As we're driving there, we decide that Huddle House is good for dinner, so I stop by work, turn everything on, print the film and then go to the House. It'll take a while for the film processor to warm up, so I'll go eat while it's doing it. Had a great dinner/breakfast and then ran the film through. We had to wait a good 15 minutes for that slow machine to work, but finally we were able to leave. We were going to go grocery shopping (cause that's what you're supposed to do when it snows. But I told Jason, we have bread and milk, what else are you supposed to shop for?) So we didn't go shopping and came home. Luckily nothing stuck so no need for going to the store!! So, I didn't go home and create. I was too tired. Plus, I wasn't feeling creative at all.
March 4th
The next morning, I started working on my sister's birthday card because I KNEW It would take all morning. I was casing a card by Mary Jo Albright that was inspired by a cover of Martha Stewart's magazine. It took forEVER to stamp, and once my mom told me we were postponing the birthday party, I didn't work all that hard on it. After getting all of the butterflies cut out, I stopped. I might work on it tonight after I get home, but I'm not sure. If I do, I'll post it. Gotta run...I'm at lunch so I'll try to post later! I need to update my details on this card! Kim