That's what I'm doing, from now until...well, until I get done. And who knows when that'll be. I'm ashamed to say that I just took down my Christmas tree and decorations earlier this week. Yes, I know it is February. But, in my defense, DH didn't put the tree up until December 12th, and I usually want it up Thanksgiving weekend, so leaving it up a little longer than normal isn't too bad...is it? (OK, I've already admitted in a post last year that I am a procrastinator. I'm not sure if I've mentioned it before, but I'm not afraid to mention it now...I'm lazy too! I hate anything that has to do with work, especially cleaning.)
So, back to organizing. As I was cleaning, my craft table just got piled really high with junk. By junk I mean craft stuff that had gotten spread out all over the living room. So, after getting the rest of the living room clean and organized, I decided that I'm going to get my office clean (which is a feat in itself, lemme tell ya!), move the dining room table in my office (we never use it to dine at anyway...it's a small butcher block table that is PERFECT for stamping...I was gonna buy one at a thrift store, but DH said to just use what we got...ok!) and get my stamping/scraping/crafting area ORGANIZED!!! I've got some plywood that I got from a friend. I'm gonna have DH build me a rack to hang on the wall with dowel rods in it for my ribbon. I'm gonna have him put a couple of shelves on it for some stamp pads. Then I'm gonna find a permanent place to hook up my Cricut. I read on someone's blog that they used priority mail boxes for 12 x 12 paper storage. I measured one I had. Sure enough, it will hold it! I'll decorate it with pretty paper and no one will be the wiser! All this talk about organizing is making me want to start right this minute. But, well, one, I'm lazy (we established that earlier) and tired from work today, and two, I have to start getting ready for a meeting that I'm going to in an hour. And I would hate to start getting into what I'm doing and have to stop. So, I'll sit here on the computer some more! I'll post pictures once I have my area situated. I do have a couple of photos to share. The first one is of the Thank You card I sent to the animal hospital that took care of Lucy Dog. I didn't like it when I first made it, but when I picked it up a couple days later, I decided it was OK.
The next photo is of the Lucy Dog. I might have sent her mixed signals at the time this photo was taken. Lucy has reign over most of the furniture in the living room. She has ruined our couch and loveseat with her claws. It's her daddy's fault. When they were living in Cincinnati and I was down here, he started letting her sit with him on the couch. She rarely did it when I was living there, but well, when mommy's away, the kiddies will play. So, anyway, she has the loveseat and couch. She also "claims" any blankets that are around. There are two blankets on the couch and one blanket on the loveseat that have her patterned markings, kind of a circle like indention. Anyway, when we bought matching leather recliners, that was one thing that we said she would not get in. Well, she likes them just as much as we do. However, we put our foot down when it comes to these things. I usually keep my sketch clipboard in my seat when I'm gone, and I've got a notebook that I sit in Jason's chair. He doesn't remember to put it there whenever he leaves that often. And Lucy gets tempted very easily.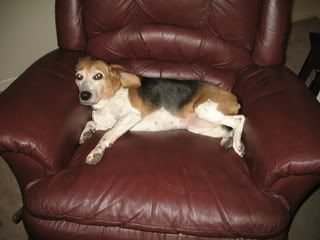 As I walked in the door at lunch, I completely caught her off guard, as she usually hears me and meets me at the door (and if she's been in the chair it is rocking and it's a dead giveaway). I yell at her, but I think she's so comfortable, she doesn't care. So, I scramble to find my camera to catch her in the act. Then I drag her butt out of the chair and scold her. Mixed messages?? Oh well. I just sent Jason an email with that picture and the subject was "Look Where I Found Your Dog!!" Thanks for reading!~Kim